Dear lacqueristas,
I want to start off by saying this collection made me very happy. I can't believe my luck that the mini collection comes with 4 polish shades, that is in this case the entire collection. I never like the OPI mini's because they usually do 3 polishes and 1 topcoat (that I won't use) and in most cases I don't even like all the polishes. In this case, I was in total awe with 2 of them, loving another, but the 4th...mehhh. Anyways, I'm happy to see OPI doing what they do best: delivering top notch products and shades. One complaint though: those mini brushes don't polish neatly at all!
Absolutely Alice
Ohhh Myyy Goshhh this is hands down the most dazzling polish I have ever seen IRL. In the bottle it looked beautiful, but only when you've applied it on the nail and see it glisten in the sunlight, you will what I mean. I wore this as a full mani a few weeks ago, and I couldn't stop to gaze at my tips. I felt like that bird that is lured by anything that blings... I went bananas again, just by swatching it! Crazily pretty polish!
The polish is a clear base with blue glitters. I'd say the color is somewhat between medium blue and royal blue. But the best thing is: in between the blue glitters, you will find speckles of golden glitter! The combination of the two makes this polish super special.
This polish reaches opacity in 3 coats. Very unusual for a glitter polish!
Absolutely Alice defenitly stands out and gives you a bling like never before. The glitters are small and round so it will not look tacky or cheap. This is a glitter that we, grown ups can wear! When I wore this mani I chose to apply 2 thick coats of Seche Vite so you can't feel the grainy glitters, and I didn't feel like it effected the sparkles in a negative way. In fact, the color got intensified and the glitters shined ever so sparkly. It gave it a 3D effect.
I found this polish very hard to photograph. Believe me that this polish is 10X prettier IRL.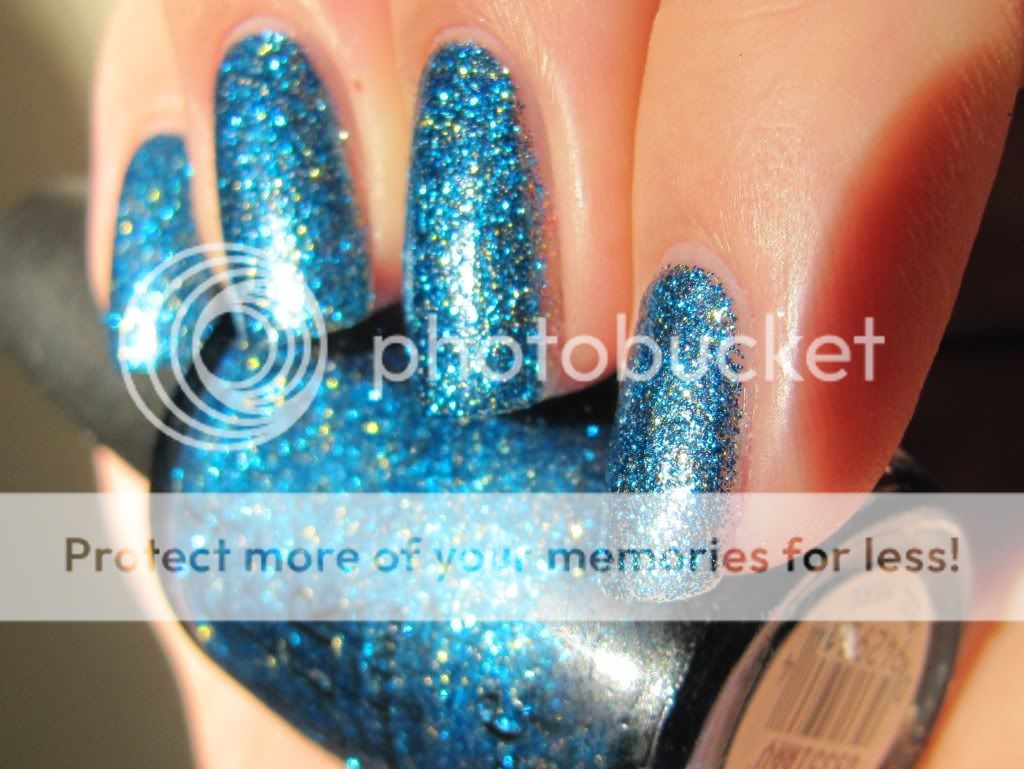 3 layers, daylight, no direct sunlight, no topcoat exept for the index finger on wich I applied a thick layer of Seche Vite. See how it intensifies the color?
Blurred to enhance the glitters. Isn't it AMAZING?! *sighs*
Mad as a Hatter
A pretty unique multi coloured glitter in a clear base. Like the Absolutely Alice, in this formula OPI used small round glitters so it will not look tacky. The polish has a lot of different colored glitters: I detect gold, orange, green, magenta, blue and most of all silver. I think it's a nice polish and all but it's not my cup of tea *lol-->Alice in wonderland*
In direct sunlight
Shade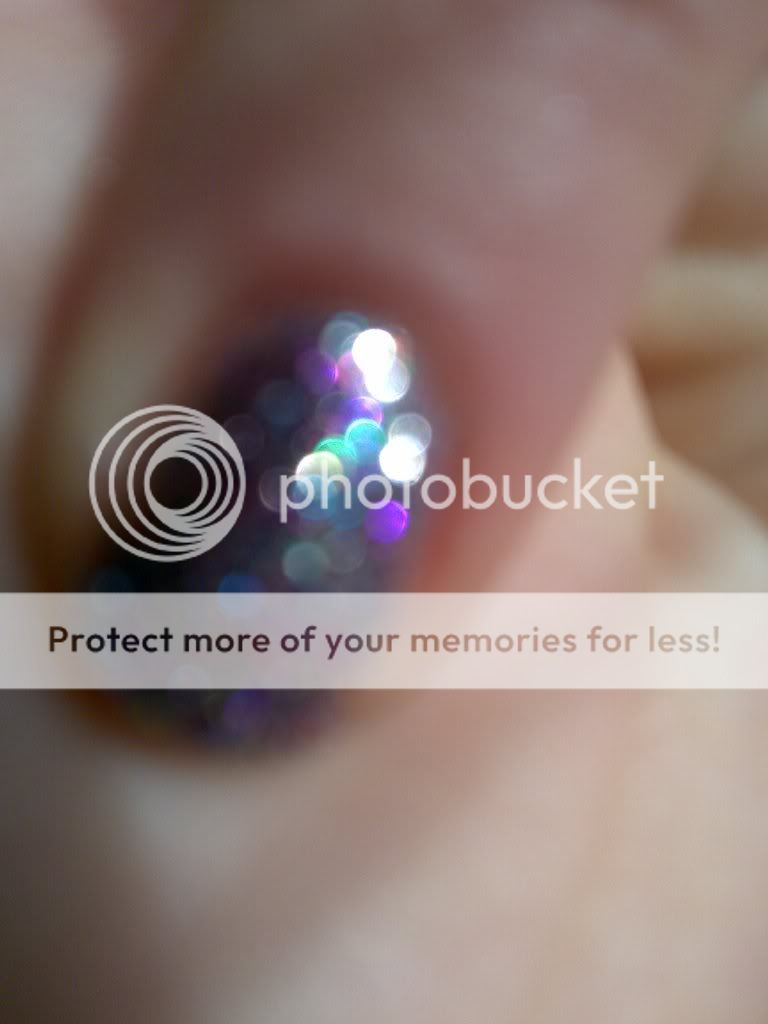 Blurred to enhance the glitters
Sunlight
click on the read more button below to see the rest of this review
Thanks so muchness!
This polish has a rich red shade with berry hues. Very pretty and I think flattering to many skintones. The polish has a finish that to me seems like a trio of pearls, shimmer and somewhat mettalic. If you look very close you could detect some fine glitter going on (red).
Sunlight
In this picture you can see the shimmer and glitter though it was very hard to catch
This is a red creme polish. The colour reminds me of spaghetti sause, this kind of orangey redness. In the bottle it didn't appeal me at all, but once I put it on, it wasn't that bad. It has a warmness to it that just isn't flattering to cool toned girls like me. The texture is good, nice and thin but very pigmented. A two layer for me.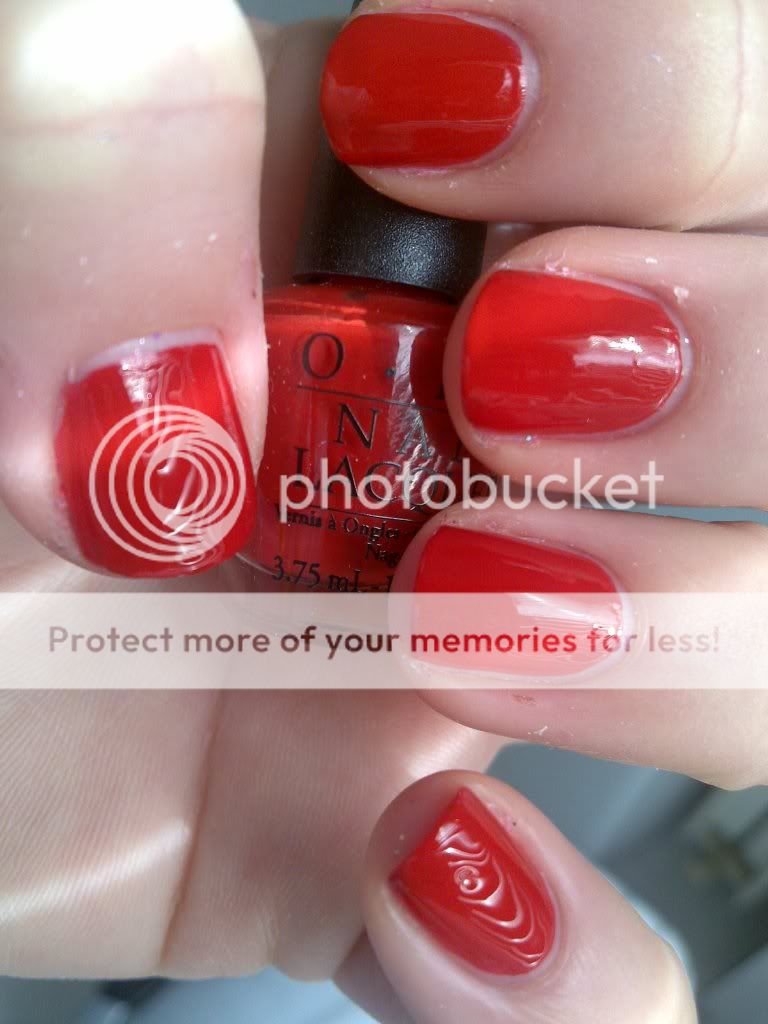 Some nails catch the sun, others in shade
In shade
That was it for now, I wonder wich are your favourites? And how do you wear them? Special occasions or everyday mani's?
Hasta la vista, lacqueristas!