Dear Lacqueristas,
It has been 3 months since I last posted, I hope you guys will enjoy this post. I have been working on swatching all of my polish on
pop-up sticks
. That was a fun project but it took forever!
Today I present you my Chanel stash, both bottle pics and swatches.
Click the pic to enlarge, like this you should be able to read the names on the bottles
White Satin, Intermezzo, Pearl Drop, Allegoria, Django
Inattendu, Jade Rose, Peche Nacree, Magnolia Rose, Mica Rose
Ming, Orange Fizz, Miami Peach, Tango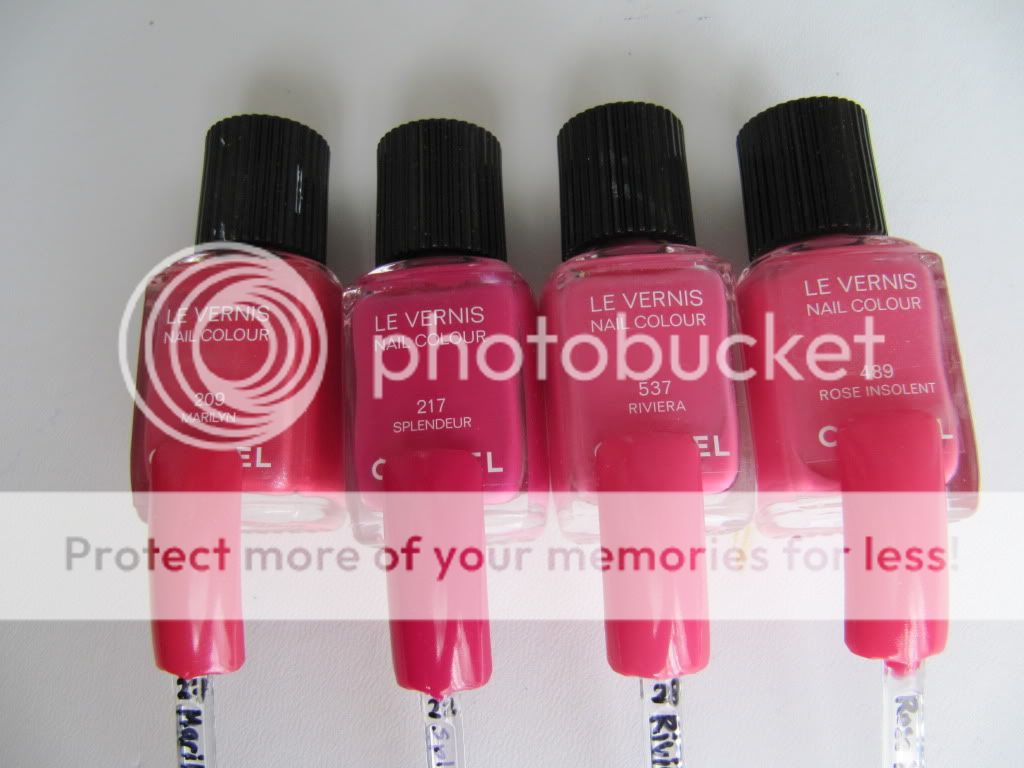 Marilyn, Splendeur, Rivera, Rose Insolent
Fantastic, Gondola, Vendetta, Paradoxal, Lilac Sky
Madness, Gold Shimmer, Samba, Salsa, Trapeze
Rouge Noir, Imperial, Forbidden, Diabolic, Noir Ceramic
Coromandel, Barcelona Red, Orient, Red Dream, Tulipe Noir
There are some true stunners in this collection. My personal favorites are
Marilyn
,
Intermezzo
and Django.
Salsa, Samba, Tango
and Orient are probably the oldest and most HTF. Somebody gave them to me so I have no clue how old they actually are, or what collection they where in.
Rouge Noir is the Mother of all Vampies.
Do you know how old Salsa, Samba, Tango and Orient are? And what is your favorite Chanel? If you have comparison or swatch requests, feel free to email me or place a comment, and I will see what I can do.
Hope you enjoyed these pictures! I just might get the hang of it again ;-)
Hasta la vista, Lacqueristas!