Dear Lacqueristas,
Today I tried my first ever Suede... Meet OPI's Here Today... Aragon Tomorrow:
Personally I am not wowed by this finish. I think it looks dull and muted. Because look how pretty this polish is when you add some ultra shiny topcoat (I used Chanel's but I'm sure you can use any topcoat)
With topcoat, overcast
See how all the pretty shimmer comes alive? It gives this polish dept and makes it appear more vibrant. I wish it was more like the original HTAT though... more blackened. I even thought it might compare to China Glaze's Emerald Sparkle but I should have know that that's incomparable: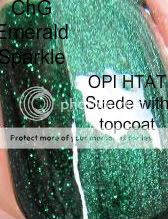 Emerald Sparkle is in a league on it's own
Do you have suede's and do you like their matte finish or do you rather put a topcaot? And what's you favourite suede?
Hasta la vista, Laqueristas!